'Jeopardy' contestant loses $3,200 after mispronouncing 'gangsta'
One syllable is all it takes to lose $3,200 on "Jeopardy."
Contestant Nick Spicher lost that amount in the game show's first episode of 2018 during "Double Jeopardy," a segment of the game show in which correct answers earn double the money, when the judges ruled that he mispronounced Coolio's 1995 song "Gangsta's Paradise."
Longtime "Jeopardy" host Alex Trebek read the $1,600 clue, "A song by Coolio from Dangerous Minds goes back in time to become a 1667 John Milton classic."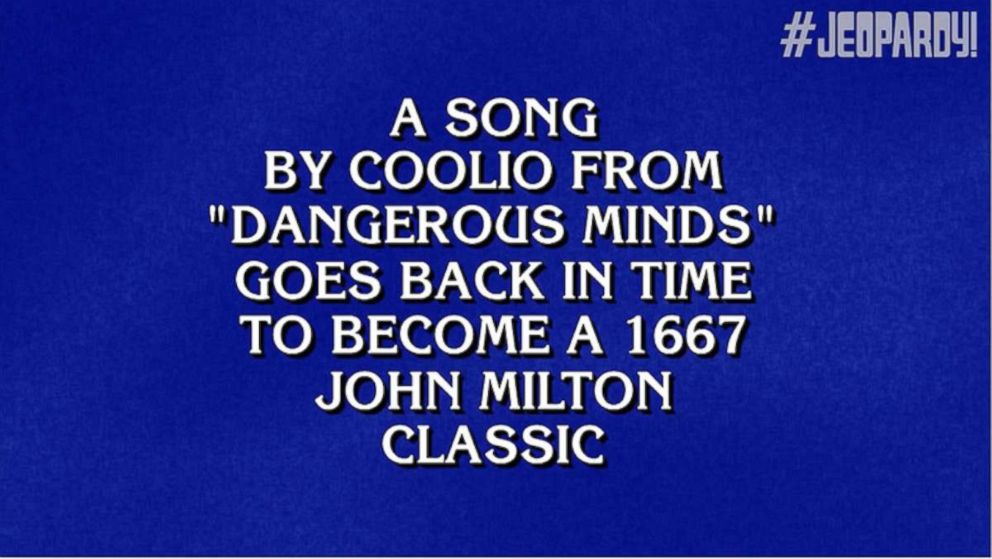 Quirky New York bartender goes viral as 'Jeopardy' genius Host of trivia game 'HQ' dishes on the hot new app
"What is 'Gangster's Paradise Lost,'" answered Spicher.
He was first awarded the $1,600, but the judges later announced a reversal of the win.
Today we learned that there's a huge difference between a "gangster" and a "gangsta."
J!Buzz: https://t.co/VLdEDXNMNU pic.twitter.com/vIICbqbj0k

— Jeopardy! (@Jeopardy) January 2, 2018
The correct response is "What is Gangsta's Paradise Lost."
"Although Nick's response of 'Gangster's Paradise Lost' was initially accepted, the hard R sound caught the ear of one member of the onstage team, who immediately followed up with a quick check," explained Jeopardy in a post on their website.
The reversal was made because judges ruled that "gangsta" and "gangster" are two different words after seeing that they are listed separately in the Oxford Dictionary.
Both words have different definitions.
"Gangsta" is defined in the Oxford Dictionary as an informal noun meaning "a gang member," while "gangster" means "a member of a gang of violent crimes."
"Nick changed not only the song's title, but also its meaning ­–- making his response unacceptable," Jeopardy said.
Comedian Roy Wood Jr., a correspondent on Comedy Central's "The Daily Show with Trevor Noah," responded to the debacle on Twitter, saying, "Let Nick's mistake be a lesson to us all. In 2018, you gotta keep it gangsta at all times. Never Gangster #Jeopardy."
Let Nick's mistake be a lesson to us all. In 2018, you gotta keep it gangsta at all times. Never Gangster #Jeopardy pic.twitter.com/NMO7QsAfyI

— Roy Wood Jr- Ex Jedi (@roywoodjr) January 2, 2018