Meghan Markle says Prince Harry is a feminist
WATCH Prince Harry and Meghan Markle visit Cardiff Castle in Wales
Meghan Markle declared today that her fiance, Prince Harry, the fifth in line to the throne, is a feminist.
Interested in Royal Family?
Add Royal Family as an interest to stay up to date on the latest Royal Family news, video, and analysis from ABC News. Royal Family Add Interest
Markle made the comment while greeting a well-wisher in Wales who told her, "It's great having a feminist in the royal family."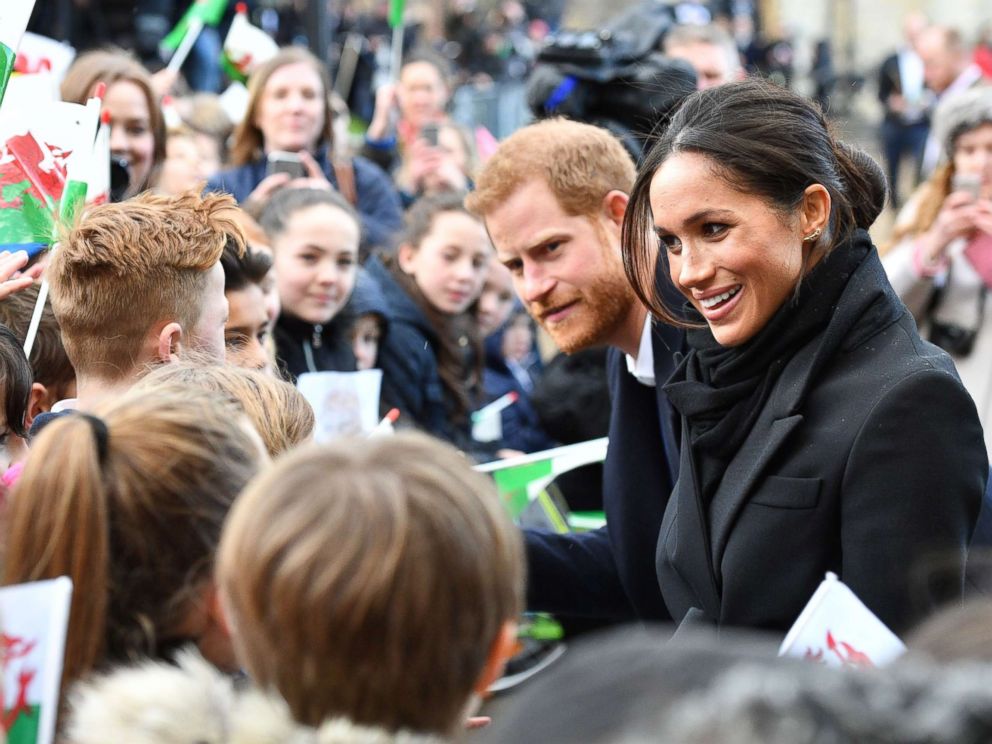 Prince William jokes that Harry still hasn't asked him to be his best man: 'It could be a sensitive issue' Meghan Markle closes social media accounts after engagement to Prince Harry
"He's a feminist too," replied Markle, well-known for her humanitarian efforts, in an apparent reference to Harry.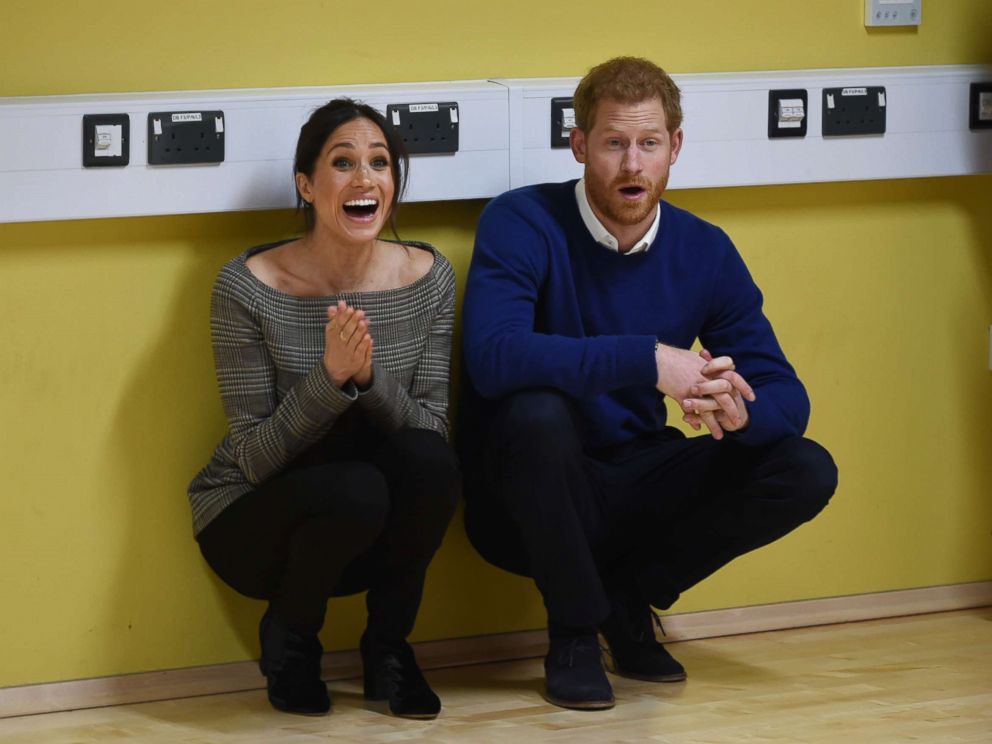 The newly-engaged couple made their second official appearance of the New Year together in Wales, where they celebrated the area's heritage and culture.
Markle, 36, and Harry, 33, were greeted by large crowds of cheering fans and chants of "Meghan, Meghan, Meghan."
Prynhawn da Caerdydd! What an incredible welcome to Wales! pic.twitter.com/XH6xirT38m

— Kensington Palace (@KensingtonRoyal) January 18, 2018
Markle, dressed in a Stella McCartney coat and pants by Welsh company Hiut Denim Co., took her time greeting people throughout their visit. Later in the day, she comforted a 7-year-old girl who became overwhelmed and teary.
"I used to be shy too," Markle told the girl.
Harry and Markle visited Cardiff Castle, an iconic building in Wales that dates back about 2,000 years.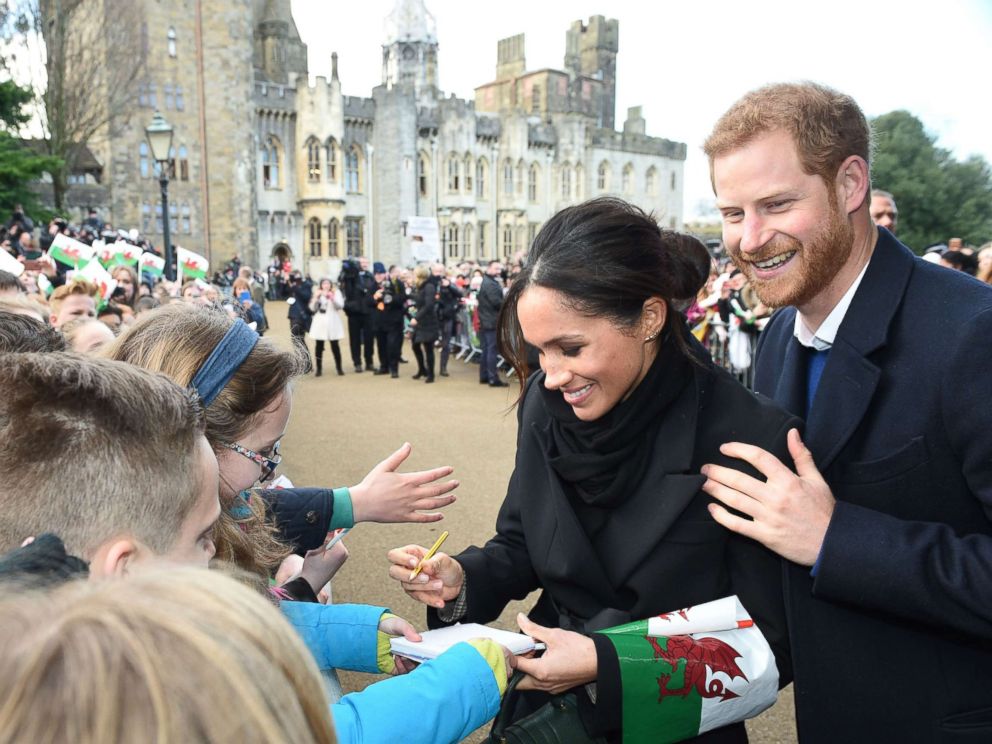 They were presented with a Celtic love spoon, a Welsh tradition, by two children also named Megan and Harry, according to Kensington Palace.
Prince Harry and Ms. Markle are presented with a traditional Celtic love spoon by local children, named Harry and Megan. pic.twitter.com/aAubgIK4UL

— Kensington Palace (@KensingtonRoyal) January 18, 2018
Markle and Harry later met with athletes, musicians and poets taking part in the Welsh Festival of Culture.
Their tour of @cardiff_castle includes a Welsh Festival of Culture, where they are meeting musicians, poets and leading sportsmen and women. pic.twitter.com/4u1VDEy7NQ

— Kensington Palace (@KensingtonRoyal) January 18, 2018
The couple had a chance to interact with kids when they visited Street Games, an organization that makes sports accessible to people from disadvantaged backgrounds, they were again
At the StarHub community centre, Prince Harry and Ms. Markle see how sport is being used to engage young people. pic.twitter.com/cSFobV4YuY

— Kensington Palace (@KensingtonRoyal) January 18, 2018
Markle and Harry played Jenga with young kids and watched members of a dance class perform.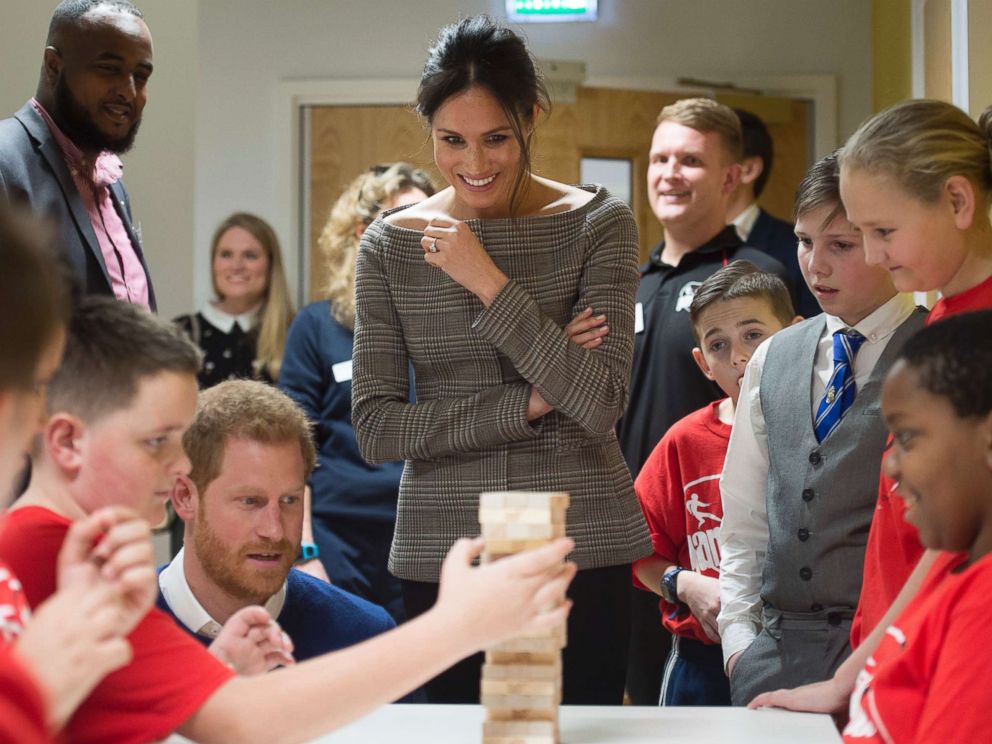 Kayleigh and her street dance class put on a special performance in the StarHub dance studio. pic.twitter.com/ZwGNRyoOaU

— Kensington Palace (@KensingtonRoyal) January 18, 2018
Harry caused perhaps the most memorable part of the trip when he joked to a group of girls that they all give Markle a group hug. The girls quickly obliged as Markle smiled and hugged them back, but not before Harry said with a smile, "And release. She's mine."
Diolch Caerdydd! Thank you to everyone who made Prince Harry and Ms. Markle's visit to Wales so very special. pic.twitter.com/jBFaafLJWC

— Kensington Palace (@KensingtonRoyal) January 18, 2018
Harry and Meghan visited a radio station in Brixton earlier this month and made an official visit to Nottingham in December, all in an effort to introduce Markle to different parts of the U.K.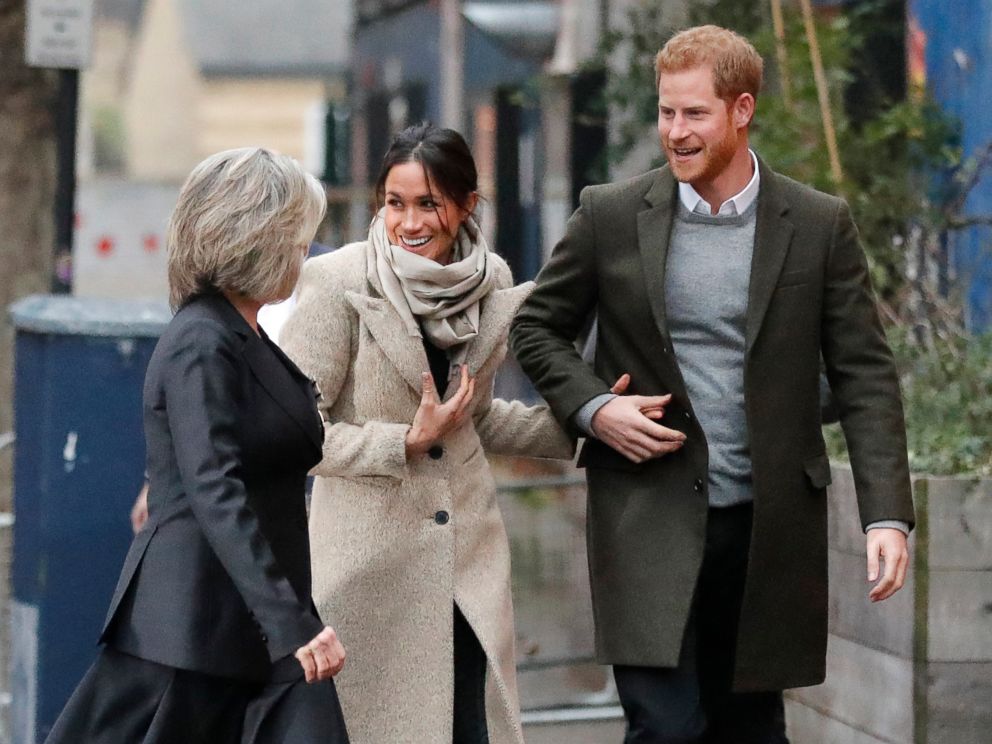 Harry's brother, Prince William, and his wife, Princess Kate, also met with well-wishers across the U.K. before their 2011 wedding.
Even though Markle is not yet officially a member of the royal family, she has already received an official gift, an apron. The apron — a joint gift to Markle and Harry — was received on their behalf by William while he visited Finland in November, just after Harry and Markle's engagement was announced.
The gift, made public this week in the royals' annual list of gifts received, is fitting for the couple. Harry proposed to Markle while they were making roast chicken together in their Kensington Palace cottage.
Harry and Markle's wedding will take place May 19, 2018, at St. George's Chapel at Windsor Castle.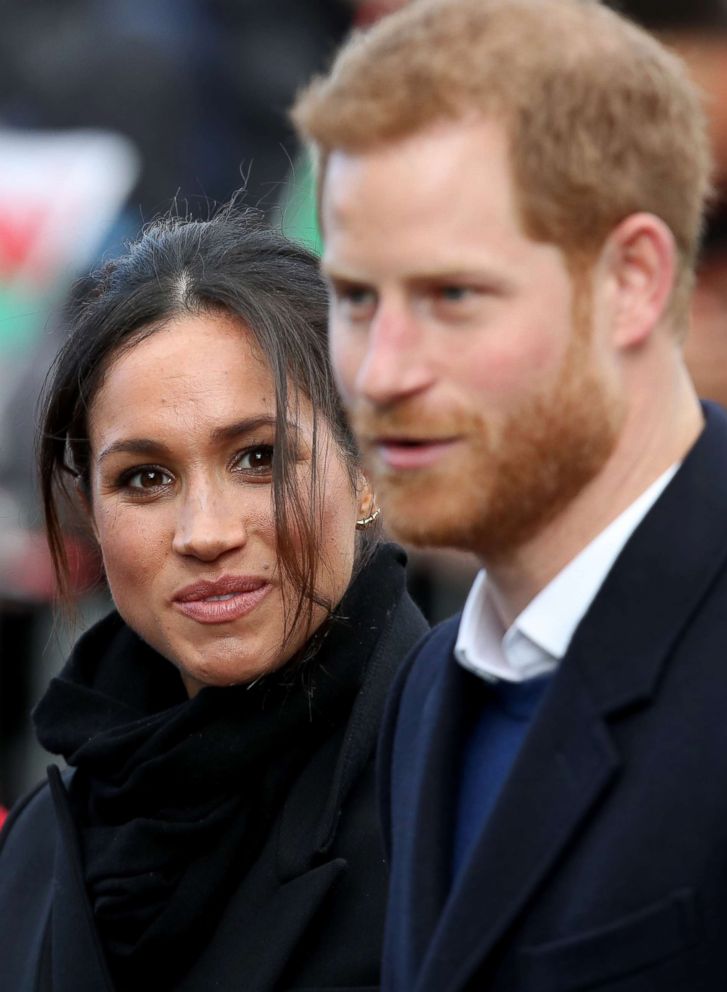 Jason Knauf, the couple's communications secretary, said the wedding will reflect the personal tastes of the couple. He said Harry and Meghan are excited to be holding their wedding in "the beautiful grounds of Windsor," adding, "They will be making sure it reflects who they are as a couple."
Markle, a Los Angeles native, and Harry are expected to incorporate some U.S. traditions into their wedding while preserving traditions consistent with British royal weddings of the past.
William, 35, is expected to serve as Harry's best man despite recently joking that his brother hasn't yet asked him to be best man.
William and Kate's children, Prince George and Princess Charlotte, are also expected to play roles as page boy, for George, and bridesmaid, for Charlotte, the equivalent to a flower girl in the United States.